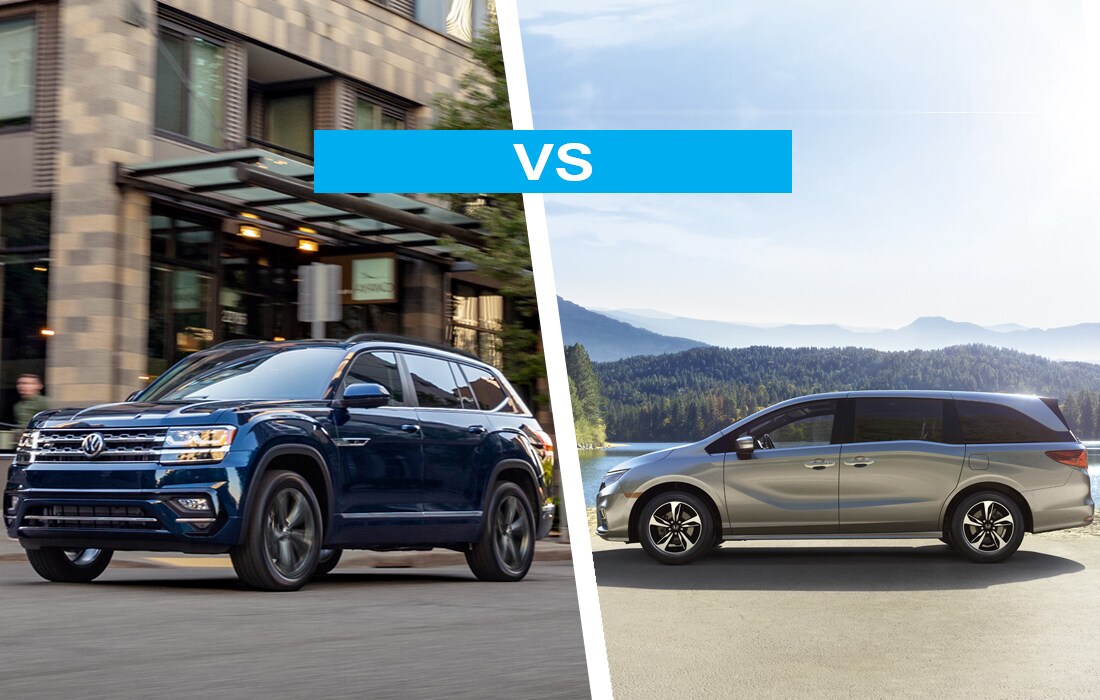 So which one is better Volkswagen Atlas for sale or Honda Odyssey? The short answer is - it depends on your needs. in the article below we will highlight the features that make the German SUV and the Japanese minivan great choices.
You might not know but Volkswagen Auto Group is the largest car manufacturer in the world. Some of its brands are Audi, Porsche, Bugatti and Lamborghini. I think it's fair to say that Volkswagen makes great vehicles that look great and are fun to drive.
Volkswagen Atlas vs Honda Odyssey Fuel Economy
Both Volkswagen Atlas and Honda Odyssey have a combined fuel economy of 22 so there's no clear winner. With that being said there's a way to save on fuel consumption.
Volkswagen Atlas offers a handful of driving modes - comfort, sport (didn't we say that driving a VW is fun), economy, snow, and offroad. Choose the economy (eco) mode and the fuel economy should improve.
| | | |
| --- | --- | --- |
|  VOLKSWAGEN ATLAS |  VS    |  HONDA PILOT |
| 22 |  Combined fuel economy | 22 |
|   48 mo / 50,000 mi |  Bumper to Bumper Warranty |  36 mo / 36,000 mi |
|  24 mo/ 20,000 mi |  Free Maintenance |  n/a |
| 20.6 cubic feet, 96.8 cubic feet with seat area |  Cargo Volume | 32.8 cubic feet, 140.7 to 144.9 cubic feet with seat area |
|  7 passengers |  Seating Capacity |  7 passengers |
|  Standard |  Apple CarPlay/Android Auto |  Trim Specific availability - not on base model |
|  2.0L I-4 |  Engine |  3.5L V6 |
|  Standard |  In-Vehicle Assistance Service |  n/a |
|  $31,545 |  Starts at |  $30,790 |
New Volkswagen Atlas vs Honda Odyssey Seating Capacity
Both Volkswagen Atlas and Honda Odyssey (base trim) have a 7 passengers seating capacity. What t hat means is plenty of room for your family no matter if you'd choose the German SUV or the Japanese minivan.
New Volkswagen Atlas vs Honda Odyssey Cargo Volume
When it comes to cargo volume Honda Odyssey has more to offer (we would say more than you will ever need). More cargo space means you can take all you need for a fun day out and won't have to leave anything behind. Again, that doesn't mean that Volkswagen Atlas doesn't have big enough cargo area, it's just not as big as Odyssey's.
New Volkswagen Atlas vs Honda Odyssey Warranty
As mentioned above, Volkswagen makes excellent vehicles. Want proof? Volkswagen Atlas comes with a 48 months / 50,000 miles bumper-to-bumper warranty vs just 36 months / 36,000 miles. And get that - Volkswagen Atlas also offers 2 years of free scheduled maintenance (Honda Odyssey owners will have to pay for things like oil and filter change). We are talking about massive savings.
New Volkswagen Atlas vs Honda Odyssey Infotainment Features
No matter whether you are driving your car to work alone or are headed out of town for a fun weekend you will want everyone to be entertained. That's where Apple CarPlay/Android Auto comes it. with it you won't have to hear anymore Are We There Yet? If you choose Volkswagen Atlas the Apple CarPlay/Android Auto and trim specific if you choose Honda Odyssey (not available in the base trim).
New Volkswagen Atlas vs Honda Odyssey Safety Features
Even though no o ne wants to think about it while on the road accidents happen. That's why people have been paying more attention to the safety features of the vehicles they consider buying. with the In-Vehicle Assistance Service (standard), Volkswagen Atlas alerts emergency services in the event of a major crash or other emergencies. You want to have that feature in your car, just in case because we never know what might happen.
Volkswagen Atlas vs Honda Odyssey Price
It's all good but how much are the Volkswagen Atlas and Honda Odyssey in Orlando, The Atlas starts at $31,545 vs $30,790 for the Odyssey. On the surface, the German SUV is a bit more expensive but not really. Why? Because it comes with 2 years of free maintenance so Volkswagen Atlas actually costs less.
So, which one is better - Volkswagen Atlas or Honda Odyssey? If you'll be using your vehicle primarily for driving kids to school and soccer practices Honda Odyssey should be your top choice. if you want to blend in with all other soccer moms, that is.
If you want to stand out, that you should choose Volkswagen Atlas. It seats 7 passengers, looks great and can be driven with ease both in the city and on rough terrain if you like to spend your weekends away from the city jungle.