Call Us Today for an Exclusive Internet Offer!
The Volkswagen Taos: Now on Sale at Volkswagen Orlando!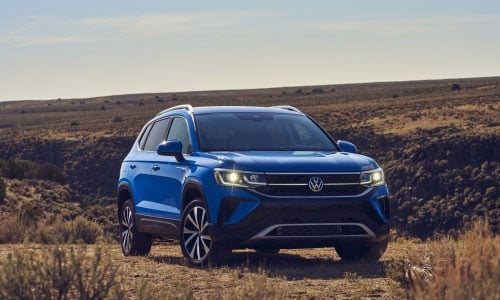 One of the newest vehicles in the Volkswagen Fleet, the new Volkswagen Taos is the latest in compact crossover SUVs from Wolfsburg by way of Puebla, Mexico. While coming in smaller than the flagship Volkswagen Atlas, the new VW Taos seats five passengers and measures 9.3 inches less than the VW Tiguan. Best of all, the new Taos is on sale now at Napleton's Volkswagen of Orlando.

How does the Volkswagen Taos perform?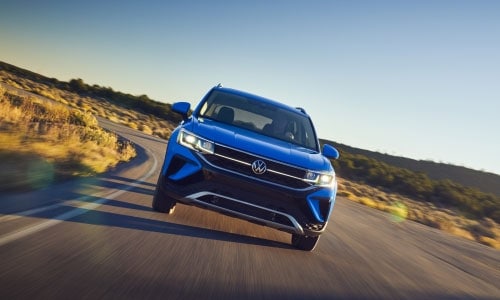 The new VW Taos is named in honor of the town of Taos, (Tow as in towel, ose as in close) New Mexico. It is a completely new SUV powered by a turbocharged 1.5-liter inline-4 that makes 158 horsepower and 184 lb-ft of torque at a barely-breathing 1,750 RPM. The engine uses the Miller Cycle protocols that combine high fuel injection pressure with variable turbine geometry for a more powerful yet more fuel-efficient engine than found in the 1.4-liter Turbo Jetta sedan. All that power is delivered to a front-wheel-drive system via an 8-speed automatic transmission. AWD Taos 4Motion models employ an electro-hydraulic center clutch pack which splits the power from front to rear via a 7-speed automatic dual-clutch transmission. The newly tuned suspension, which features a torsion-bar rear axle with Front-drive models, or a multilink suspension with AWD versions, gives the Taos a decidedly European driving ethos, resulting in stellar ride quality and handling.
What does the VW Taos look like?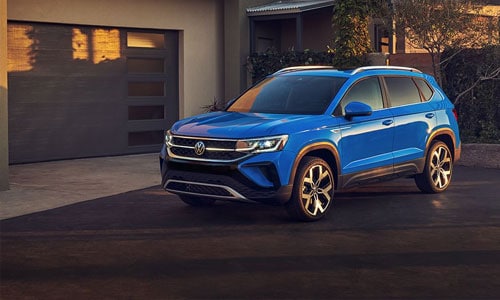 Think of the new VW Taos as Volkswagen's new baby. Built to cater to America's love for SUVs, it fits below the all-electric ID4 and the new Tiguan.
. It features reduced overhang of the front and rear bumpers, which will aid in tackling the great outdoors, especially when climbing or coming back down the mountain. From a looks standpoint, the LED light bar that runs from side to side is reminiscent of the look of the larger VW Atlas. This new Volkswagen Taos crossover SUV is yet another VW vehicle that utilizes the Volkswagen MQB platform, offering various lengths that can be used for various vehicles. It offers a great look thanks to its squared-off wheel wells hunkered down stance. The Taos can be equipped with either 17-inch, 18-inch and 19-inch wheels, depending on your trim choice. The rear is nicely set off with the Taos logo, located just below the license plate frame.
How about the Taos interior?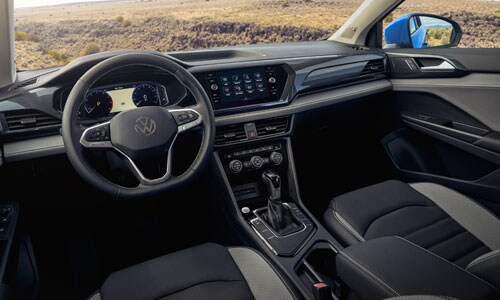 Elegantly understated, the new VW Taos features an interior that is awash in two-tone fabric or leatherette seating. Standard digital gauges like those found in many Volkswagen vehicles are here. A standard 6.5-inch touchscreen display can be upgraded to MIB3 levels, including an 8.0-inch screen that brings Apple CarPlay and Android Auto connectivity. Nearly as large as the Volkswagen Tiguan, the interior matches up with 99.9 cubic feet of interior volume. That's just 1.6-cubic feet less than the Tig. From a cargo standpoint, there are 28.1 cubic feet behind the rear seat. Fold it forward and your cargo-hauling ability jumps to 66.3 cubic feet. Other standard features include onboard Wi-Fi, a push-button starter, and automatic LED headlights. The Taos will be available in three trim levels ranging from base S, SE and SEL versions.

Is the Volkswagen Taos Safe?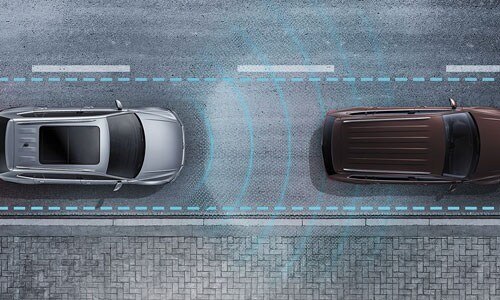 Yes, very. The new Taos can be ordered with VW's IQ.Drive Safety suite is available with the S and SE models. This safety suite is included on the top shelf Taos SEL. The system includes forward-collision warning with automatic emergency braking, a blind-spot monitor, adaptive cruise control, and lane-keeping assistance. Park Distance Control and Active High-beam lighting are also available options.
We can't wait to tell you more about the new Volkswagen Taos in person!
* Indicates a required field
VW Taos Near Me
Enhanced Fuel Economy
Turbocharged Engine
Spacious Interior
Dynamic Features
Advanced Technology
Taos Specials
Sales Hours
Monday

9:00 AM - 8:00 PM

Tuesday

9:00 AM - 8:00 PM

Wednesday

9:00 AM - 8:00 PM

Thursday

9:00 AM - 8:00 PM

Friday

9:00 AM - 8:00 PM

Saturday

9:00 AM - 8:00 PM

Sunday

11:00 AM - 6:00 PM
Volkswagen Taos on Sale Now!
Return To The Top
Volkswagen Taos Trims & Specs

| Model | S | SE | SEL |
| --- | --- | --- | --- |
| Engine | 1.5L turbo 4 cylinders in line | 1.5L turbo 4 cylinders in line | 1.5L turbo 4 cylinders in line |
| Transmission | 8-speed automatic transmission | 8-speed automatic with Tiptronic | 8-speed automatic transmission |
| Horsepower | 158 hp | 158 hp | 158 hp |
| Torque | 184 lb.-ft. | 184 lb.-ft. | 184 lb.-ft. |
| FWD | Standard | Standard | Standard |
| AWD | Available | Available | Available |
🔥Popular Volkswagen Taos Questions!

Other Orlando Volkswagen Vehicles You Might Find Interesting