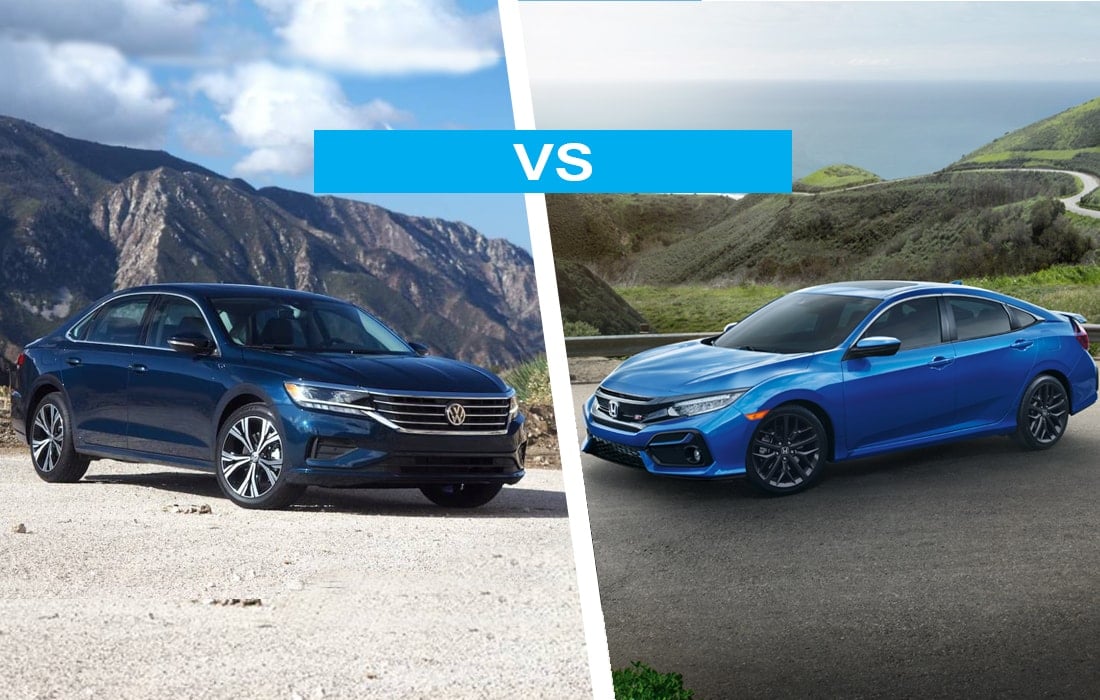 Is Volkswagen Passat for sale or Honda Accord a better deal? Can you get more car for your money? It's a tie but in the article below, we will highlight the features that make the German large family car and the Japanese 4-door sedan a good choice. Ultimately, it will be up to you to decide which car better fits your needs.
Not that many people know that but in addition to its namesake brand Volkswagen Auto Group also manufactures the following luxury car brands - Audi, Porsche, Bugatti, Lamborghini and Bentley. It all comes to show that you can't go wrong if you choose the German sedan.
Warranty
But you don't have to take our word for it. Volkswagen puts its money where its mouth is. Volkswagen Passat comes with a 48 months / 50,000 miles bumper to bumper warranty.
Compare that with Honda's bumper-to-bumper warranty which is only 36 months / 36,000 miles. And if that's not enough to swing you in the direction of the German sedan, VW Passat also comes with 2 years or 24,000 miles of free maintenance on all new Volkswagen Passat vehicles.
| | | |
| --- | --- | --- |
|  VOLKSWAGEN  PASSAT |  VS    |  HONDA ACCORD |
|  27 |  Combined Fuel Economy |  31 |
|  2.0L I4 Turbo |  Engine |  1.5L I4 Turbo |
|  Standard |  Apple CarPlay/Android Auto |  Standard |
|  15.9 cubic feet |  Cargo Volume |  16.7 cubic feet |
|  Standard |  Blind Spot System |  Trim specific availability - not on base model |
|  48 months / 50,000 miles    |  Bumper-to-bumper warranty |  36 months / 36,000 miles |
|  24 months / 24,000 miles |  Free Maintenance |  n/a |
|  6.3 in |  Screen Size |  8.0 in |
|  $23,915 |  Starts at |  $24,975 |
But there's more. The new Volkswagen Passat MSRP is $23,915 vs $24,975 for the new Honda Accord. All that adds up to massive savings. That's why people prefer owning the German sedan - it doesn't break the bank.
New Volkswagen Passat vs Honda Accord Fuel Economy

When it comes to combined fuel economy the new Honda Accord is the clear winner with 31 mpg vs 27 for the new Passat. However, if you buy the German sedan and drive in eco mode you should be able to significantly improve the mileage you get from your new Passat.
New Volkswagen Passat vs Honda Accord Cargo Space
Both cars have similar cargo volume - 15.9 cubic feet for Volkswagen Passat vs 16.7 cubic feet for the new Honda Accord. That's enough room for all the staff you might need for a fun family weekend away from Orlando (both vehicles have a seating capacity of 5).
New Passat vs Accord Infotainment Features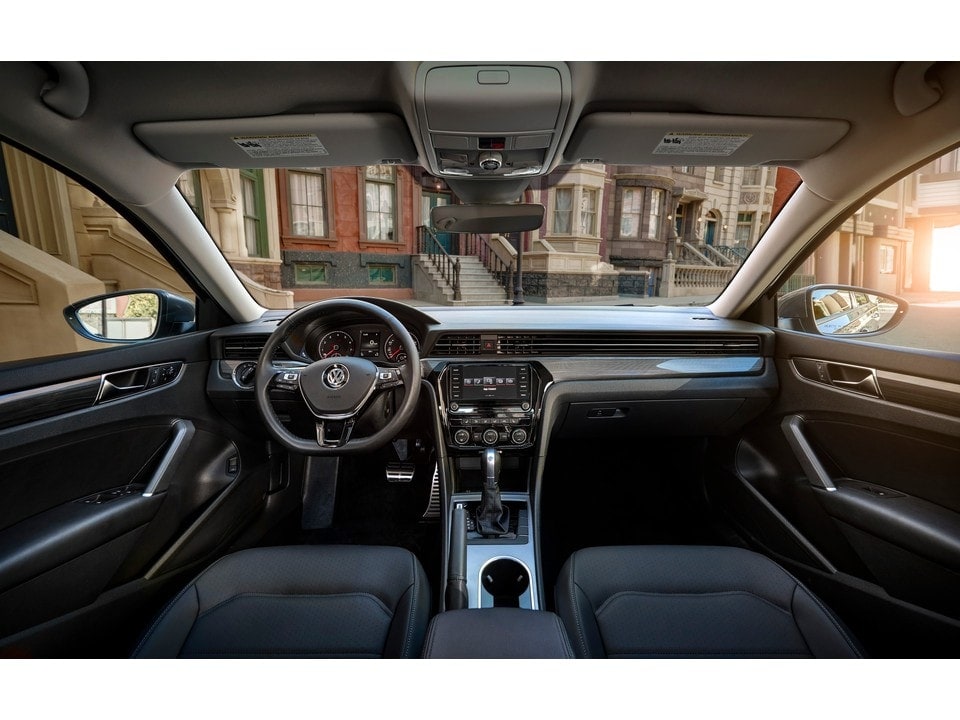 Apple CarPlay/Android Auto is standard in both vehicles. That way you can easily access your favorite apps thus making your driving safer.
It might not sound like a big deal until you learn that according to the National Safety Council cell phone use while driving leads to 1.6 million car crashes each year.
Having Apple CarPlay/Android Auto in your car means fewer distractions, effortless navigation, hands-free texting and real-time reminders all without taking your eyes off the wheel of your car.
The new Passat comes with a 6.3-inch screen vs 8.0-inch screen for the new Honda Accord. For some people, that's a deal-breaker. After all, bigger is always better, or is it?
A study by AAA and the University of Utah found that large touch-screen systems can be distracting, especially for older drivers (ages 55-75). So having a sedan with a smaller screen might actually be an advantage.
Volkswagen Passat vs Honda Accord Safety Features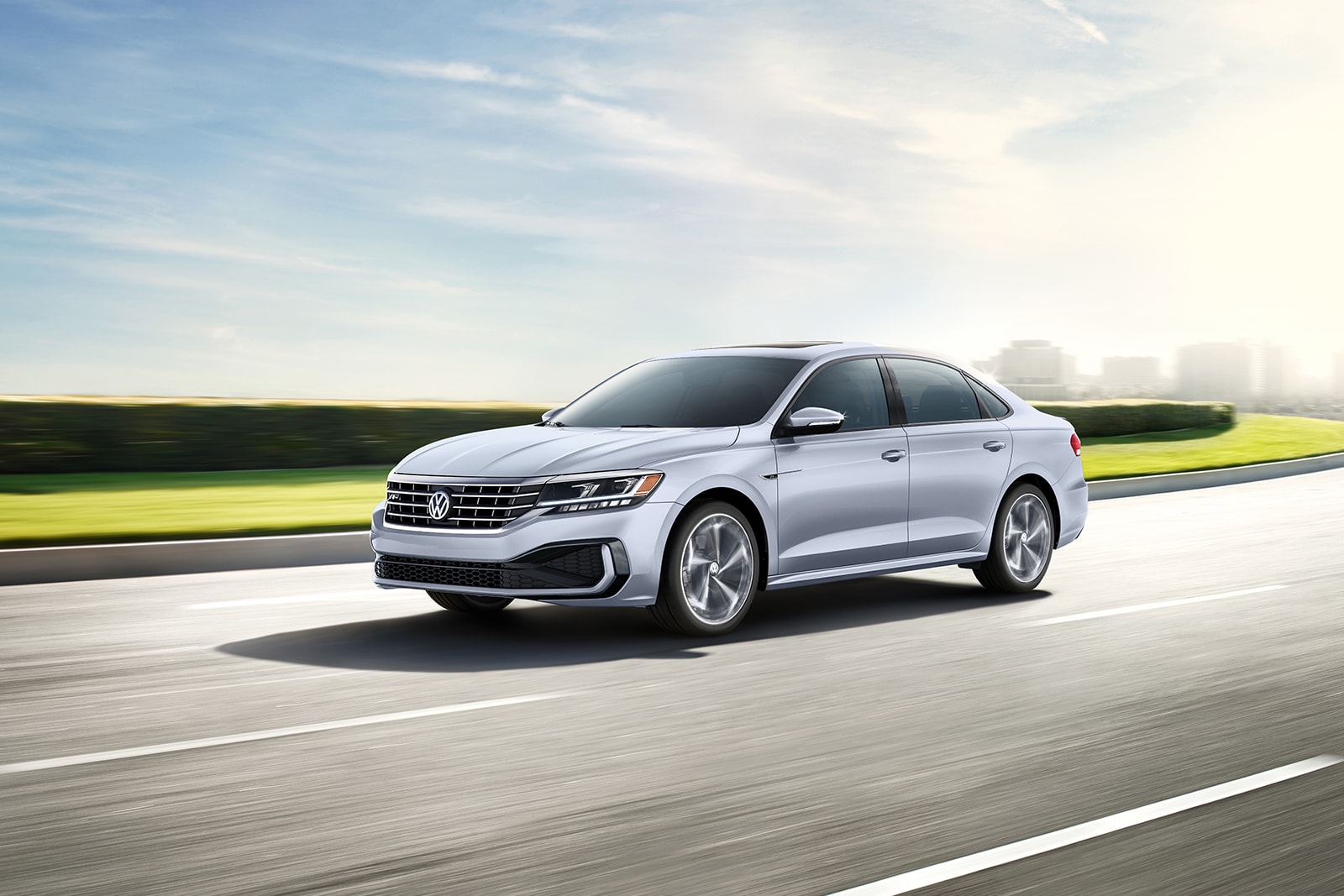 And since we are talking about staying safe on the road there's one feature that is standard in the new Passat but is trim-specific in the new Honda Accord - Blind Spot Monitor System.
It monitors the area behind and to each side of the car and alerts the driver when other vehicles enter these zones.
So, do you get more car for your money when you buy the new German large 4-door family car or the Japanese sedan? Lower starting price, better bumper-to-bumper warranty and 2 years of free maintenance make Volkswagen Passat a much better deal than the new Honda Accord.
Why Choose Napleton's Volkswagen of Orlando
Our dealership is an official Volkswagen dealer. What that means is that we have a large number of new, pre-owned and used Volkswagen cars and SUVs to choose from. All our pre-owned vehicles have passed a comprehensive multi-point inspection by our Volksgen-certified technicians.
What's more - we will buy your old car and give you a fair price for your tade-in thus saving you the hustle of dealing with car buyers trying to get your car for a song.
Ana last but not least, we can help you finance your new VW vehicle. As we work with multiple financial institutions specializing in car financing we make comparing multiple auto loan rates easy.

All you have to do is fill out the form on our website or visit our Volkswagen dealer and our financial officers will do the legwork for you.
This is a service Napleton's Volkswagen of Orlando offers free of charge to all potential car buyers.