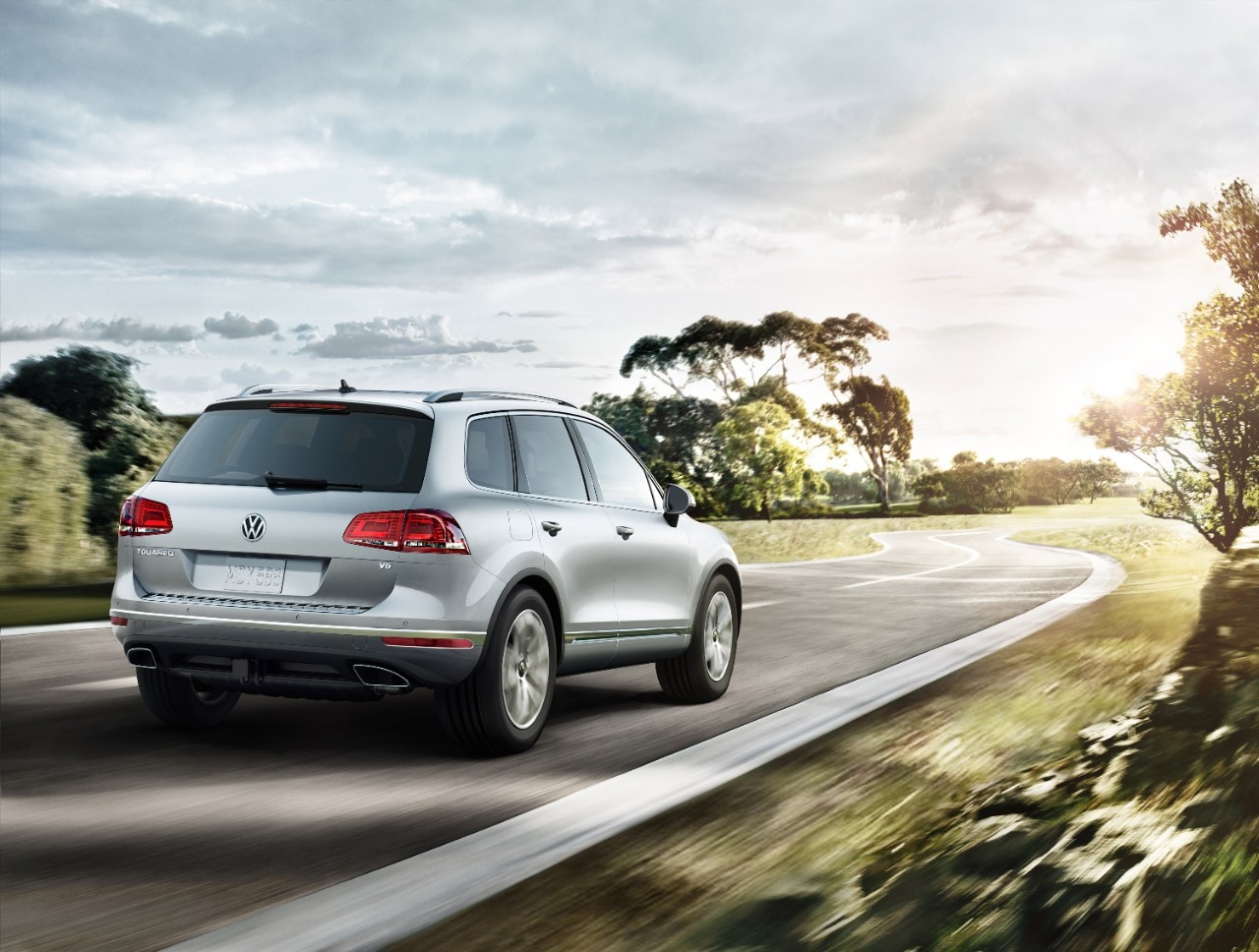 Discover  Luxury Inside Of a 2017 Volkswagen Touareg For Sale Near Orlando | Replaced by the Volkswagen Atlas in the US

Welcome to our Volkswagen Touareg page!! This very popular model was replaced by the Atlas in the US. Feel encouraged to check out our pages on the 
Atlas
and
Atlas Cross Sport
, or feel free to keep reading. Are you looking for a SUV, packed with more room, and adventure? Do you wish you had an SUV that was built for the rugged outdoors, but could handle the toughest roads? If you could save big on a brand new luxury SUV, would you?
How would you like it if you could get 5 times the space and comfort you would normally get in a SUV? Plus,an outstanding highway MPG that helps you save huge at the fuel pump.
Right now. You can get an new 2017 Volkswagen Touareg luxury SUV with all the room and comfort you never knew you needed. - And you don't have to wait.
All you have you have to do is visit Napleton Volkswagen in Orlando and we will help you get the best deal on a new 2017 Volkswagen Touareg, Today. When you visit Napleton Volkswagen of Orlando, you will also receive an absolutely free test drive ... Still not convinced?
As you read every detail about the luxurious 2017 Volkswagen Touareg, you will quickly discover how much you and your family need a Volkswagen Touareg
Volkswagen Touareg Performance And Road Handling
If you're an adventure seeker, or someone who loves to travel, chances are, you want an engine that is tough on or off the road. When you get a 2017 Volkswagen Touareg, you get a vigorous 3.6 L FSI V6 Engine that pushes out 280-horsepower and 266 pound feet of torque.  Its responsive 8-speed automatic transmission with a manual Tiptronic and SportModes gives you the best of both worlds.
 At any second, you could take command and shift your way to your destination.  Matching its strength, comes its reliability. The 2017 Volkswagen Touareg can haul more than 7,000 pounds.  Sounds pretty tough.
If that's not enough, take your adventure to the next level with 4Motion All-Wheel Drive. Touareg will give you double the traction for double the action, in one SUV.

Equipped with a sophisticated steering system, and suspension, the Volkswagen Touareg performs with complete utter control.  This is the smoothest and most comfortable drive you will ever experience in a SUV.


Volkswagen Touareg Interior Features
The Volkswagen Touareg's interior is everything luxury should be:  8-way power adjustable heated leather seats,   a self-dimming rearview mirror, fully upholstered luggage compartments, a heated leather wrapped steering wheel, chrome accents, and dual front and rear cup holders, and fully upholstered storage units.
A spacious 103.6 cubic feet cabin space, plus  32.1 cubic feet of cargo space, filled with  60/40 split folding rear seats, Climatronic Dual Zone Automatic Climate Control,  power windows with  one touch feature,  and  power safety locks- that's more standard features than  luxury offers at  twice the price.  
And that just the beginning!! The 2017 Volkswagen Touareg also comes loaded with comprehensive suite of advanced technology that you control -by touch or by voice- to enhance your driving experience.  Inside of the 2017 Volkswagen
Touareg you will find:
Hands-free Bluetooth Technology to stay fully connected to all of your  favorite music, mobile apps, text-messages, maps, and more
High Definition Rear View Camera System to help you pull into tight  park spaces
An 8-inch RNS Premium  touchscreen navigation, with 3D landmarks, and 60 GB hard drive
High Quality AM/FM/MP3/Sirius stereo system with 8-speakers
 Adaptive Cruise Control
Keyless Push Start Ignition
Volkswagen Touareg Safety and Security Features
With one goal in mind, the 2017 Volkswagen Touareg comes standard with the latest, most advanced, safety and security features:
High Strength Crash Optimized Front End maximizes crash protection in the event of an accident
Advanced Air  Bag System  provides an additional level of protection in the event of an accident
Anti-lock Braking System (ABS) delivers maximum control whenever braking around obstacles
Anti-Slip Regulation(ASR) prevents wheels from losing traction
Electronic Stability Control (ESC) enhances steering capabilities
Electric Differential Lock (EDL) prevents wheel spin on wet or slippery surfaces
Electronic Brake Assist enhances braking power in the event of an emergency
Electronic Brake Pressure Distribution provides brake power where you need it most
Hill Descent Assist enables smooth and controlled hilled descent in rough terrain
Hydraulic Brake Assist enhances braking power in the event of an emergency
Rollover Sensor System helps you keep all four wheels on the ground
Brake Override System helps you stop whenever your feet are on the gas and the brake
LATCH Child Seat Anchor
Anti-Theft Alarm System  with Immobilizer Theft Deterrent System  prevents invalid keys from starting  your vehicle
How to Take New 2017 Volkswagen Touareg Home?
Since you're still reading this, we are going to assume you're interested in the 2017 Volkswagen Touareg. "Yes". Well now that we have shown you the best features that the Volkswagen Touareg has to offer, it's time for you to take advantage of our incredible deals on the new 2017 Volkswagen Touareg.
Before you do anything else…
Fill out our free form above. Even if you're not 100% sure if you are ready to buy a new Volkswagen Touareg, you can get a free price quote today. In seconds. 
Don't worry about any hassles, you are not obligated to anything.
When you fill out the free form above, you will get to speak to one of our expert car specialist, and they will help you get behind the wheel of a new 2017 Volkswagen Touareg.
If you don't take action today, there's a 95% chance you are going to miss out on an amazing deal.  Don't wait! When you fill out the form above your information will be protected against unauthorized use.
Make an Inquiry
* Indicates a required field