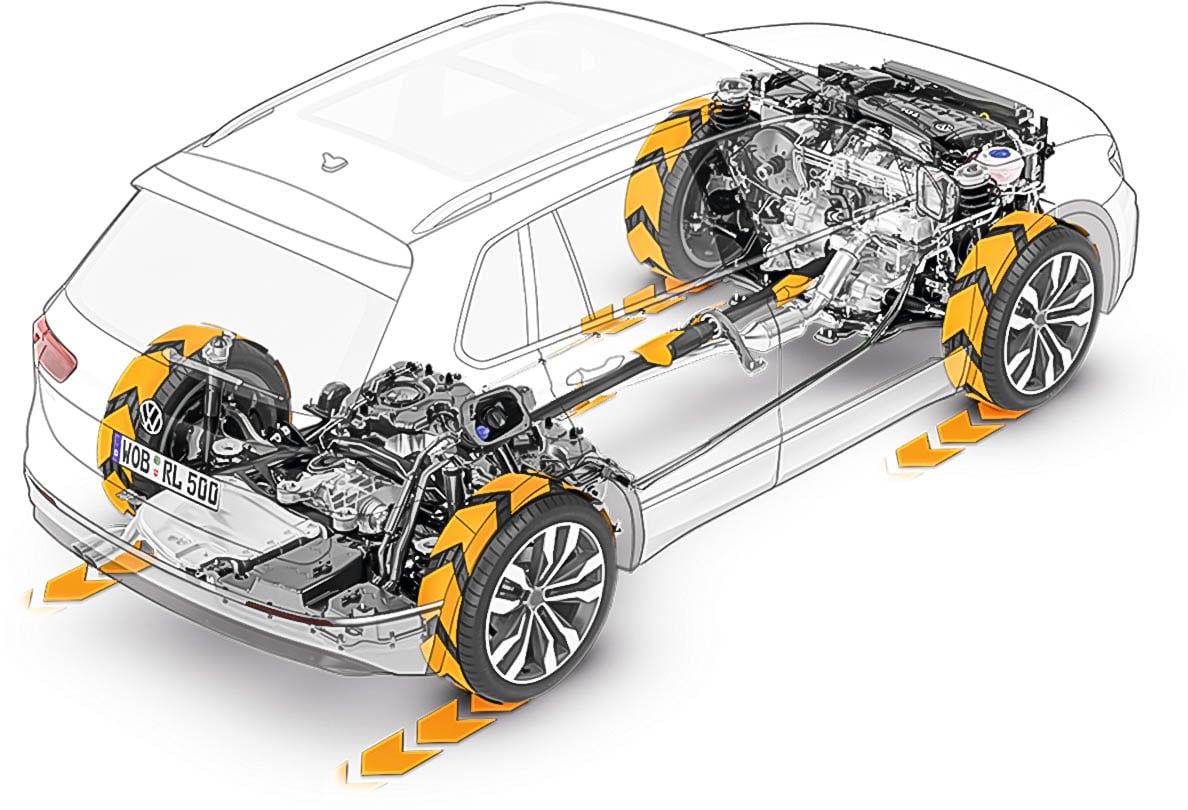 Volkswagen 4Motion keeps you in motion regardless of the weather
We all rely on the TV weather guys and girls to let us know what to expect and perhaps how to dress for any particular day. But those of us in Florida know that weather forecasting is basically a spectator sport that changes by the moment. To paraphrase Mark Twain, "If you don't like the weather down here now, just wait a few minutes."
Reasoning like that is why Napleton's Volkswagen of Orlando offers you a choice between standard Volkswagen models and all-wheel-drive 4Motion-equipped VW cars and SUVs. Capable of providing traction assistance in snow, sand, wind and rain, Volkswagen 4Motion vehicles provide extra peace of mind while encountering the most challenging driving conditions, whether on or off road.

What is All-Wheel-Drive?

All-wheel-drive (AWD) vehicles are those that send power to all four wheels, depending on their torque needs, while 4-Wheel-Drive (4WD) is a system that is turned on or off as needed. When turning the 4WD system off, the vehicle reverts back to its normal front or rear wheel drive configuration.

Volkswagen 4Motion AWD is similar but in an automatic sort of fashion, sending power to all four wheels but varying between front and rear as well as side to side. As an example, imagine encountering a slippery stretch of highway, right after a sudden rain storm.

All four wheels are on the job, receiving varying amounts of torque until traction has been regained. At that time, power is restored to the vehicle's normal front (FWD) or rear wheel drive (RWD) configuration. The best part though, is that 4Motion only uses the amount of fuel necessary to power all four wheels for only as long as that power is necessary.


Volkswagen gives you choices
There are many Volkswagen Cars and Sport Utility Vehicles that offer a choice of standard or 4Motion drive configurations. Take a look below, and be sure to contact your Napleton Volkswagen of Orlando sales associate for more information.
Golf R
: The sportiest of VWs, the Golf R supplies 288 horsepower and 280 lb-ft of torque to all four wheels via the 4Motion drive system.
Golf SportWagen 4Motion: A station wagon to you and me, the SportWagen 4Motion all-wheel-drive system is powered by a 1.8-liter inline four-cylinder turbocharged engine that makes 168 horsepower and 199 lb-ft of torque.
Golf Alltrack: Similar to the Golf SportWagen, the Alltrack 4Motion rides higher for improved off-road clearance, if and when the urge strikes you. Power is by a 168 horsepower turbocharged four-cylinder engine.
Arteon 2.0T 4Motion
: Volkswagen's halo sedan, the new Arteon 2.0T 4Motion receives its motivation from a 2.0-liter turbocharged four-cylinder engine producing 268 horsepower and 258 lb-ft of torque.
Tiguan 2.0T 4Motion
: VW's mid-sized SUV, the Tiguan 2.0T 4Motion features a 2.0-liter turbo four-cylinder engine with 184 horsepower and 221 lb-ft of torque, to take you off-road and back.
Atlas V6 AWD with 4Motion
: The largest Volkswagen SUV, the Atlas includes a 3.6-liter V6 engine that makes 276 horsepower and 266 lb-ft of torque, distributed through the Atlas 4Motion AWD system.
At Napleton's Volkswagen of Orlando, we are 4Motion specialists. Our dealership has the latest in all-wheel-drive 4Motion vehicles from Volkswagen, not to mention a full array of pre-owned cars, trucks and SUVs. Contact one of our Volkswagen sales specialists to arrange for a test drive today.